"Since Joely has been attending Champion's Quest, I have noticed how strong she is!  After having ACL surg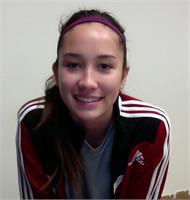 ery, the goal was to make her weaker leg stronger and it worked!  Going regularly has not only made her physically stronger, but her confidence has gone up as well.  She really enjoys all that she is learning from the various trainers along with the encouragement and ongoing feedback that she gets from them.  All the trainers keep an eye on her and I really feel that they are genuinely interested in helping her attain her goals.  She is learning life long tools that will help her well beyond high school.  We have really enjoyed coming to Champions QUEST." -Christine Blair 
Joely Blair walked through the doors of Champion's QUEST to gain athleticism from a post-ACL surgery. She obtained short-term goals of gaining strength, agility, and speed to allow for an edge in 50/50 balls as a central midfielder. She also obtained lon
g term goals to play soccer at the collegiate level.
Since first attending Champion's QUEST in November of 2015 Joely has increased her athletic score by 172%. This includes increasing her vertical jump by 2.5 inches and improving her agility by 3 seconds!
We are so proud of the progress Joely is making towards her goals. Keep working hard Joely!
About the Author:
Co
ach Angela Garcia, Soccer Assistant Coach
562-598-2600
Tagged: agility, Angela Garcia, Athlete, Champion's QUEST, Greater Long Beach, Joely Blair, Long Beach, Los Alamitos, soccer, Soccer Academy, Soccer Skills, Soccer Training, Speed Training, strength training