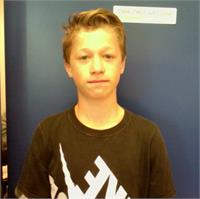 Matt Brines is 14 years old and is very talented in multiple sports. Currently,he is focusing on football and is excelling in all 3 phases of development: mental, physical and technical. Matt has been a Champion's Quest athlete for 10 short weeks and he is making unprecedented strides on being the best athlete he can be. Matt has shown tremendous advancement in his over-all athleticisim, quickness and most importanly, confidence. He has embraced the challenge of being the best through his hard work, consistency and most noticeably his dedication in training. As a result, Matt improved in all 10 base performance measurements and his scores are outstanding: +230 percent in only 10 weeks!!!!
I attribute Matt's success to 3 things: 1)the support of his family; 2) the consistency to train in the Champions Quest
 system and lastly, 3) his unyielding commitment to train at home on his personal time. Matt understands that it takes hard work,dedication and the mindset to simply do more to acheive excellence. I am confident that Matt dedicates additional time to master his craft as a football player. For example, doing extra push-ups to get stronger, doing extra sit-ups to improve his core and catching extra footballs to improve his hand-eye coordination. I wish Matt' success and continued excellence in his quest to become a champion!!!
Matt keep working hard, staying consistent and congratulations on committing to "Living Like A Champion"
Coach Reggie Ward
Tagged: agility, Athlete, Athlete Academy, Champion, Champion's QUEST, Champions, dedication, excellence, Football, Long Beach, Notre Dame, Reggie Ward, Scholarship, Sports Performance Training, Success Story, support