Tyler is a 10 year old basketball player who has been training with us at Champion's Quest since August of 2014. With a long term goal of receiving a scholarship to play collegiate basketball, Tyler has committed to training with us twice a week and his commitment is already paying off! Tyler has an aggressive style of play, and uses his length to guard multiple positions. At Champion's Quest, Tyler always comes ready to train and is willing to listen and learn from his coaches. Our initial plan for Tyler was to focus on his jumping and running technique, total body control, and strength, and found great success.
Focusing on jumping form was important for Tyler to improve his basketball game, and with his efforts and ability to be coached Tyler increased his standing vertical by 7 inches! His approach vertical also increased, and this quarter we are going to focus on strength and power output from his lower half to increase his approach vertical even more.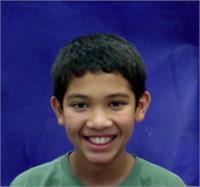 Equally impressive were Tyler's gains in his agility scores, as most times decreased by a full second! This was highlighted by Tyler's SST time, which decreased from 5.61 seconds to 4.39 seconds. These scores are a testament to Tyler's focus on increasing his overall body control.
Tyler's speed and strength also improved, dropping his 10 yard dash time from 1.71 seconds to 1.62 seconds, and going from not completing 1 pull-up to being very close to completing 2 pull-ups! After his latest evaluation we have adjusted his plan to include more strength and body control work to produce more power out of his lower half. We will also continue to work with Tyler on his body control and technique, and Tyler will continue to strive towards his new short term goals. I'm really looking foreword to Tyler's continued success as he progresses as an athlete!
Come train at Champion's Quest with athletes like Tyler and strive towards your athletic goals! Try out one of our Athletic Clinics for FREE!  Guest Pass
Contact me, Coach Logan, at logana@championsquest.com with any questions about how to become a champion!
Tagged: Athlete Academy, Champion's QUEST