Giovanni Micallef is a 13 year old Football Quarterback for the Los Angeles Hurricanes football Pop-Warner team. Gio, is what he goes by and has been making a name for himself this year with the Hurricanes after playing for the Pico Rivera (Twin Cities) football team the past few years. With him moving to a new football team, he had to earn the respect of the team and the competition. Gio has been able to transition to his new team with great success and the team has pulled together to help him on the field.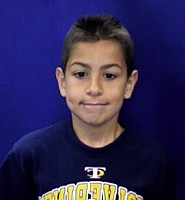 It has been over three years Gio has been enrolled in our Athlete Academy with a vision of becoming a Varsity starter in high school. Within the time he has been training in our program he has been able to improve all around as an athlete, from his agility to strength, with the biggest improvement coming in his lower body power. His vertical jump has increased by 9 inches! Gio's confidence, work ethic, mental toughness and attitude on the field are his greatest attributes as I have seen his focus increase in situations that others his age would crumble. His attitude on the field and dedication to his training I believe can help him reach his dreams of playing Football for Stanford University and in the NFL.
Every athlete has to commit to reaching their goals physically and mentally. With the mental focus Gio has during his training and on the field is far superior to most athletes his age. With his growth in our program, I have noticed that Gio has the ability to digest information and use it on the field without any delay in transition. There are few athletes at his age that can command the field such as Gio and his dedication to Football can be equal to some professional athletes. Here at Champion's Quest we are dedicated to providing our athletes the best coaching to there needs and goals. When we have athletes like Gio that are driven and self motivated it not only is a vision of our leaders in youth sports and it challenges us mentally to provide a well developed program for that athlete.
In his time with us, Gio has worked with different Athlete Performance Coaches and with every coach they have seen the attitude differences that Gio represents as an athlete. He is very talented at his position and extremely knowledgable of what happens on the field. All of the positive feedback from every coach, inside and out of Champion's QUEST has been very positive on his mental focus and playing. He has such a long career ahead of him and with his focus and work ethic he can have a successful time in the future. I wish him the best of luck during his season and the playoffs!
Go Hurricanes!
Written By Athlete Performance Coach: Derrick Campbell
Tagged: Agility Training, Champion's QUEST, Derrick Campbell, Giovanni Micallef, Los Alamitos, Los Angeles Hurricanes, pop warner, quarterback, Speed Training, youth football, youth training